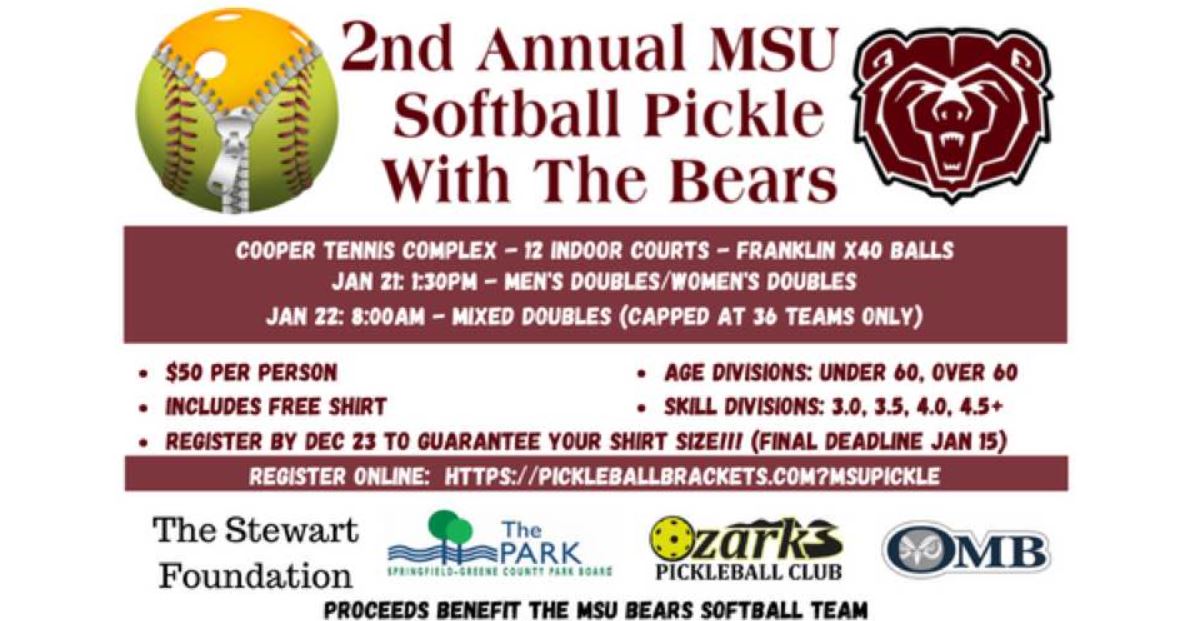 2nd Annual MSU Softball Pickle with The Bears
January 21, 2023 - January 22, 2023
2nd Annual MSU Bears Softball Team Fundraiser: Pickle with the Bears!
Cost is $50 per person (you may enter either 1 or 2 events): either Mens or Womens Doubles + Mixed Doubles
Brackets will be separated by age and then skill. You may play DOWN in age or UP in skill at your discretion. Be sure to register for your desired skill/age bracket.
Planned Age Divisions: U60, 60+
Planned Skill Divisions: 2.5/3.0, 3.5, 4.0, 4.5+.
**Due to time constraints, MIXED DOUBLES on Sunday will only be separated by SKILL LEVEL only and the total number of teams will be capped to 36 teams.
Brackets generally would need to have a minimum of 5 teams or else they will be combined with similar skill levels. Some brackets may be combined due to # of registrations at the discretion of the TD.
LOCATION:
Cooper Tennis Complex (INDOOR) tennis courts w/ 12 temporary nets. Franklin X40 balls.
TIME:
Saturday, January 21: 1:15 – Welcome from the MSU Bears Softball Team (Cooper Tennis Lounge)
1:30pm – 8:30pm – Men's & Women's Doubles (exact bracket times will be announced approx. 1 week ahead of time)
Sunday, January 22: 8am – 12:00pm – Mixed Doubles Limited to 36 teams ONLY. (exact bracket times will be announced approx. 1 week ahead of time.)
---