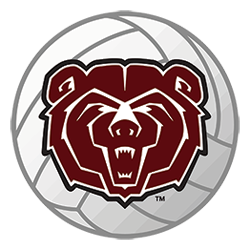 MSU Volleyball Camp – College ID Camp
July 20, 2023 - July 22, 2023
This is an elite level camp for players wanting to experience Division I Volleyball. If you are interested in playing college volleyball this is the camp for you. Players will be evaluated by our staff and grouped by skill level to maximize their learning experience. We will use a combination of drills and 6v6 competition that we use in our own gym to challenge campers. This camp will include a campus/facilities tour and a Q&A session with our current Missouri State Volleyball players.
Additional Info:
Athletes will get a colored bracelet representing their graduation year and a name tag upon arrival
Residential Campers will get dorm keys and meal wristband at check-in
Residential campers can choose their roommate at housing check-in. If you do not have a preference our staff will assign roommates.
Layout:
Day 1: Check-in, Safety Meeting, Session 1, dinner, Session 2
Day 2: Breakfast, Session 3, lunch, Session 4, dinner, Session 5
Day 3: Breakfast, Session 6, Check-out
Check-out: 11:30am-12:30pm (At the dorms)
July 20th – 22nd
Girls  Grades: 9th – 12th

Resident Check-in: 12:30pm
Commuter Check-in: 1:45pm

Residential Cost | $275 (Includes housing and all meals)

Commuter Cost (All 3 Days) | $225 (Includes dinner, lunch and dinner)

Commuter Daily Options (Price Includes Meals)
Day 1 (7/20) | $100
Day 2 (7/21) | $150
Day 3 (7/22) | $50

*This camp will close ONE week in advance in order to finalize staffing and housing numbers
---